Why Your Coffee Program Should Go With The Market Flow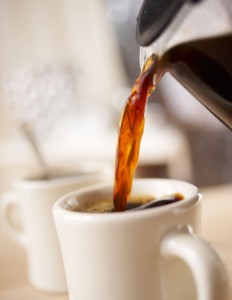 As smaller coffee programs fight for their fair share of the coffee market, and larger chains sink their teeth into profit potential, we're seeing a wave of maddening innovation sweep the country. Unique selling tactics, merchandise displays, social media integration – new approaches to capture a piece of the coffee market are popping out of the wood work on a consistent basis. It's almost as if there is no limit to the amount of renovation, transformation and enhancement coffee bars can initiate.
But, there is. Especially for smaller stores, who are probably experiencing a louder boom in their coffee profits than ever before. A big piece of the market is going to look ever so appetizing – but convenience store chains need to take this opportunity in stride. They shouldn't let the competition intimidate them, but they shouldn't try to overpower the competition, either. If they make the mistake of spending their entire budget on coffee, (which is easy to do with sales pumping hard) or trying to move ahead through coffee, they're going to experience abundant waste and possibly crash and burn.
Convenience stores do not sell strictly coffee; they sell items of convenience along with coffee. So, any attempt to lead with coffee, or try to become a household coffee name, will backfire.
How Bolla Did It
A well-known convenience store in the big apple, Bolla Market jumped right in to the coffee frenzy, offering 8 different varieties of coffee to try and satisfy every customers' taste. Through trial and error, Bolla discovered that quality reigned far supreme over quantity. They  ended up narrowing down their 8-flavor selection to 5, after pouring too much budget into what they already had: fresh, quality coffee, variety, and a quick, reliable coffee bar. They decided to emphasis these points and honed their coffee program accordingly.
Stay Within Guidelines
It's easy for convenience stores to go overboard with fanciful decor, exotic blends and extreme marketing – but they don't have to do all that. As convenience stores get a feel for the flow of their coffee customers, a hierarchy of wants and needs will start to become clear. For example, Bolla offers a 4-flavor shot machine. When the store discontinued it in an attempt to cut budget, customers requested they bring it back.
Small additions and subtractions will soon mold together an ideal coffee program. And ideal means what works for you – not what the big guys are doing. Convenience stores are just as much a part of the coffee competition, but they are fighting on a different landscape. Success for them comes when they enhance what they've got – not try and change it. Their task is to step up their game. Their challenge is to keep it realistic. Here are some tips to keep in mind when the temptation to splurge takes over:
Gourmet blends? Invest in one or two, whatever your budget allows, and then offer them on a rotating basis. Have a flavor of the week. Have a special once a month. Don't go overboard on variety or you'll face waste; the quality of the coffee is always more important than how many you have.
If your budget widens, continue at a steady pace. Bring in a shot machine, but don't line the counter with all new merchandise. The market could swing in the opposite direction at any time, and convenience stores could lose any "luxury" customers they tried too hard to satisfy. Step up your game, but stick to your roots.
Customers are requesting higher quality? Do the best you can, or point them in the direction of the nearest Starbucks.
People go to convenience stores for the convenience. These stores walk a fine line right now, and it'll be easy to get market-hungry and topple over. Some will hear the words "coffee market" and purchase 10 kegs of the cheapest java they can find. Some will try to offer only gourmet blends, hoping for a more specialized audience. Some will lose their cool, some will suffer under their egos and some will go overboard and drown. Many smaller stores have already seen the financial loss of trying too hard, too much, too fast upon their first steps in this market.
Take it slow. Add shades of innovation, variations of variety, layers of enhancement; but don't transform your entire store to lead a market that's out of your hands. Be happy and have fun with the boom you're getting – leading the market is so overrated anyway.
Are you ready to give your coffee bar a shot of renovation? Call our Java Geniuses at 866-4JAVA-2U, or click below, and we'll get started on a blueprint for your new and improved coffee program!
Are you looking for a quality office coffee delivery service?  Our Java Geniuses are ready to bring quality coffee to your office, workplace or shop.  Contact our team or call us at 866-452-8228