What Snacks Are Best Enjoyed With Coffee?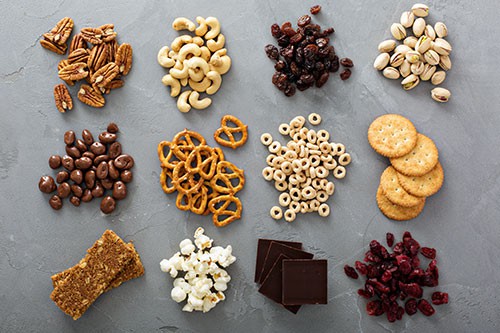 So what are the best snacks to pair with coffee? Let's be honest – high-quality coffee is pretty perfect all on its own. But the right snack only makes it better.
When you're getting your next cup, pair it with one of the suggestions below to take your coffee drinking to the next level.
Whether you have an incurable sweet tooth or like it the saltier the better, we have the snack for you.
Even better – these snacks bring their own nutritional boost to your day! Eating snacks between meals can help keep energy up and helps you avoid getting so hangry you empty the office chocolate stash.
Salted Almonds
Start your day off right with a protein and fiber boost. Salted almonds are a healthy snack and the fiber can help you feel full longer. They're easy to keep stashed in your desk and make a fast and healthy pairing with your high-quality coffee. Fans of hazelnut may want to choose almonds when sipping a medium roast or even a mocha.
Raisins And Dried Cranberries
When that dreaded afternoon slump hits, pair that much-needed cup of coffee with some healthy carbs. Both raisins and dried cranberries help you get your daily servings of fruit, while offering some carbs for energy. The sweetness of the dried fruit works well with darker roasts.
Granola
It's easy to think of granola as just a breakfast food, but it works just as well as an afternoon snack. There are plenty of healthy options that help you get in your whole grains for the day while still getting some tasty fruit and spicy flavors.
Get creative and pair raspberry granola with a mocha or jazz up a plain cup of joe with cinnamon and nut granola. Add a protein boost by sprinkling it over Greek yogurt.
Kettle Corn
Whether you're popping a bag in the office microwave or keep a bag in your desk, kettle corn is a healthy snack that gives you the best of both worlds. A great source of fiber and antioxidants, 3 cups of popcorn is the equivalent of 1 ounce of whole grain, according to Livestrong.com.
A little salty, a little sweet, kettle corn pairs well with a dark roast or a caramel latte.
Baked Goods
While this may seem like an obvious choice, it's still a good one. You can go either the savory or sweet route. Cook up some options yourself or find a local bakery or grocery store to up your snack game.
For savory options, think about making bacon and Gouda quiche or ham and cheese croissants. If you need a fast and easy option, get veggie or chive and onion cream cheese to go on your morning (or afternoon) bagels.
If you prefer sweets, you have nearly unlimited options. Go with cinnamon sugar biscuits or challenge yourself to bake up some cinnamon buns. Your office mates will love you and it's a nice way to get Monday started right.
Offer an office perk that everyone can enjoy. Provide a variety of high-quality coffee, tea and hot chocolate options for your employees.
Are you looking for a quality office coffee service?  Our Java Geniuses are ready to bring quality office coffee delivery to your business, workplace or shop.  Contact our team or call us at 866-452-8228